New Berlin Gun Show




Thank you for visiting our Internet site. We are a not for profit organization committed to protecting second amendment rights and promoting the New Berlin Illinois gun shows.

---
Welcome to our home page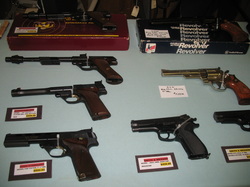 Our website is designed to keep you up to date on current gun shows and to provide you with important links to other shooting sports related websites.
If you would like to be added to our email distribution list to receive notification for upcoming shows, please contact us at
guns@cigca.net
If you are not familiar with our organization and your first contact with us is online: We would be pleased to hear from you! Please let us know what your needs and questions are, we will be more than happy to help.
The Central Illinois Gun Collectors Association was established in 1958 by a group of individuals who enjoyed buying, selling, trading and collecting guns.
The association currently hosts gun shows four times a year at the Fairgrounds in New Berlin, Illinois where guns can still be bought, sold, or traded.
We follow all state and federal laws regarding the buying and selling of guns.
In addition, we are a NRA club affiliate. We also support and endorse the National Rifle Association and the Illinois State Rifle Association. All of our shows are recognized by the Illinois State Police.
---